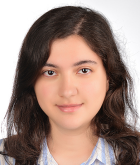 Başak Yalçın
Trainee
Basak Yalçın is currently pursuing an LLB Law degree at the University of Exeter.

She is doing pro-bono work at her university and is the upcoming Vice President of the Model UN Society and the Publicity Officer for the Law Society.

She has attended several workshops and gained experience in international law firms in London. Başak speaks Turkish, English and German.
University of Exeter, College of Social Sciences and International Studies, LLB Law.