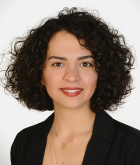 Serenay Berfin Erdoğan
Trainee
Serenay Berfin Erdoğan is a senior law student at Koç University with a full scholarship and is expected to graduate in June 2020.

Berfin also pursues a double major in Archaeology and History of Art. During her education, she was awarded with Vehbi Koç Honor Award two times. She speaks Turkish and English.
Koç University, Faculty of Law.