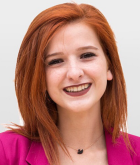 Elif Su studied her penultimate year at Baskent University.

She worked as a volunteer in Anıttepe Leo Club and American Field Service Volunteers Association. She is a member of Baskent University Model United Nations Club and a school representative of European Law Students' Association (ELSA).

She is also a Kennedy and Lugar Youth Exchange and Study Program (YES) alumna.

Elif Su is expected to graduate in 2020. She speaks Turkish and English.

Başkent University, Faculty of Law.