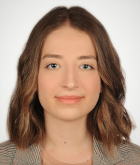 Gülfem Arslan
Associate
Gülfem Arslan studied at Bahçeşehir University School of Law with scholarship. During her education, Gülfem worked in a law firm and Bahçeşehir University TTO as an intern and also organized academic programs with Bahçeşehir International Law Club.
She participated in ESL Programme in Washington D.C. for a year. Also, she earned a minor degree in International Trade and Business from Bahçeşehir University.

Gülfem is expected to be admitted to practice in 2020. She speaks Turkish and English.
Bahçeşehir University, Faculty of Law, LL.B. (2019)