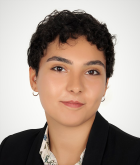 Meliha Özdemir
Coordinator | French Desk
Meliha Özdemir is a senior law student at Galatasaray University and is expected to graduate in May 2020. During her education, she spent a year in Spain at Universidad Autónoma de Madrid under the Erasmus student exchange programme.

Meliha is fluent in French, English and Turkish. She also speaks Spanish.
Galatasaray University, Faculty of Law.