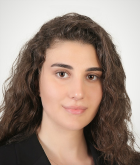 Pelin Tiryaki
Trainee
Pelin Tiryaki is a senior student at Bilkent University.

She is a member of European Law Students Association(ELSA) and Ankara Cayyolu Rotaract Club.

She participated in a cultural exchange program in Denmark.

Pelin is expected to be admitted to practice in 2020. She speaks Turkish and English.

Bilkent University, Faculty of Law.