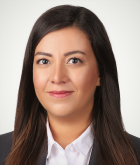 Ayşen Yaşar
Senior Associate
Ayşen Yaşar has more than 10 years of expertise in corporate and commercial law, employment, intellectual property, e-commerce and contract management. She also has extensive knowledge and experience in representing domestic and international clients in a broad variety of litigative matters before Turkish Courts and all levels of court proceedings.
Ayşen worked as an in-house counsel at a major holding company and provided legal consultancy to group companies operating in various industries ranging from mining to health. Her career involves working at the Turkish arm of the world's largest insurance company where she dealt with a vast array of complex contracts. Her practice mainly focuses on corporate setup and restructuring, merger and acquisitions, and e-commerce.
She is a certified mediator registered to the Mediation Registry held by the Mediation Department of Republic of Turkey Ministry of Justice.
Ayşen was admitted to practice in Istanbul in 2011. She speaks Turkish and English.
Istanbul Bar Association
Mediation Registry, Ministry of Justice
Bilkent University Alumni Association
Bilkent University, Faculty of Law, LL.B. (2010)