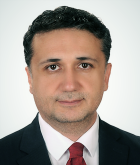 Dr. Barış Günay's practice encompasses a wide span of areas with in-depth expertise on corporate and commercial transactions, foreign investments and real estate. He also has extensive experience on maritime law and insurance law. He has handled matters as an expert in numerous litigations at commercial and admiralty courts.
Prior to joining Gurulkan Çakır Günay as a full-time partner, Barış had considerable teaching experience in various law schools in Turkey. He has written several books and articles on various topics of maritime and insurance law.
Barış was admitted to practice in Ankara in 2002 and speaks Turkish and English.

Istanbul Bar Association
International Bar Association
TED Ankara College Alumni Association
Ankara University, Faculty of Law, LL.B. (2000)
University of Nottingham, LL.M. (2002)
University of Exeter, Ph.D. in Law (2007)